Archived Aadhaar Logo
Competition
In February 2010, the UIDAI launched a nation-wide logo competition for Aadhaar. In the following weeks, over 2000 entries were received from across the country.
The criteria for deciding the winning entry were:
The logo should bring out the essence of the UIDAI's purpose and goals

The logo should communicate that Aadhaar is a transformational opportunity for individuals across the country, and that it is one that will equalize access to services and resources for the poor

The logo should be one that can be easily understood and communicated across the country
The vast majority of logo designs received for the competition, were innovative and of extremely high quality. The submitted designs were evaluated by the Awareness and Communication Strategy Advisory Council (ACSAC), an advisory group for the UIDAI consisting of renowned communication experts.
The Council short listed the finalists based on the stated criteria. "We faced a very difficult decision in selecting the finalists and the eventual winner," Mr. KiranKhalap, a member of the Council says, "Thankfully, we had agreed to a set of criteria for selection that minimized subjectivity and bias."
The finalists were:
Michael Foley

Saffron Brand Consultants

Sudhir John Horo

Jayanth Jain and Mahendra Kumar

Atul S. Pande
The winning design, shown here, was submitted by Mr. Atul S. Pande of Pune.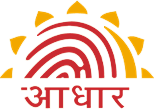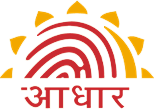 "It's a great privilege for me to have had this opportunity to contribute to the UIDAI project. I belive this contest reinforces the UIDAI's promise of equal opportunity for all, because it gave so many of us a chance to design for, and be part of, a truly transformational project" said Mr. Pande.
Logo Launch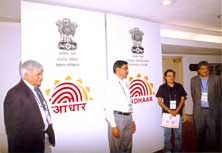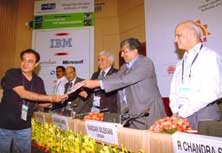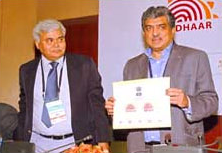 The Aadhaar logo was unveiled at the UIDAI Ecosystem event held at VigyanBhawan, New Delhi on 26th April 2010.Atul S. Pande, the winner of the logo competition, received Rs.1,00,000 in prize money. The other four finalists received Rs.10,000 each.