Where to Enrol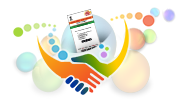 Residents of any state/UT/district may please note that they need to enroll only at the camps for for enrollment or at any Permanent Enrolment Centre. If you have already enrolled for Aadhaar once then you do not need to enroll again as it is rejected due to duplicate. Enrollment in all the states/UT is being covered by UIDAI and Office of the Registrar General of India. The distribution has been made in such a manner that both ecosystem operate independently. In the NPR states, enrollment and National Population Register is being developed together and so no need to enroll separately. The states covered by RGI are:
States: Arunachal Pradesh, Assam, Jammu & Kashmir, Meghalaya, Mizoram, Nagaland, Manipur, Odisha, Tamil Nadu and West Bengal

Union Territory: Dadar and Nagar Haveli and Lakshadweep
Residents belonging to all the other states may get enrolled at the camps, enrolment centre or Permanent Enrollment Center but remember if you have already enrolled you do not need to enroll again.